My multiple tank syndrome persists. Now that Fishlet the freebie fry has matured into a turquoise rainbow, it is quite obvious he needs a larger tank. I'm slowly setting up a 55 gallon for him. Eventually I'll get him some more rainbow buddies.
The stand is partially completed here. Spouse wanted some experience working with knotty pine before tackling a wainscoting project, so we decided to use shiplap to sheath the frame. The picture shows where the planks for the doors have been cut out. We're lining up the remaining planks prior to tacking them down.
We built the doors by butting two pieces of shiplap together and securing them with some scrap lathe. The lathe isn't exactly gorgeous, but it won't be visible when the doors are shut.
Stand with the doors closed. It still needs one more plank on the end. The tank will sit between a wall and an entertainment console, so we don't need to cover the sides or back of the stand.
The mostly complete stand is now shoehorned into its location. Still need knobs for the doors. We did a rough job of leveling the stand, but we can't level it properly until water goes in.
I had wanted to do a tank filled with crockery, but I wasn't able to find enough free cups and such. I went to my nearby Habitat for Humanity thrift shop. No luck there either. They had an eclectic mixture of stuff, but none of it was to my taste. Then I ended up at a party for one of the cousins, where the smallest guests were shrieking loudly. I escaped from the baby bedlam by taking a long walk on a nearby slate beach. I brought home a number of interesting rocks.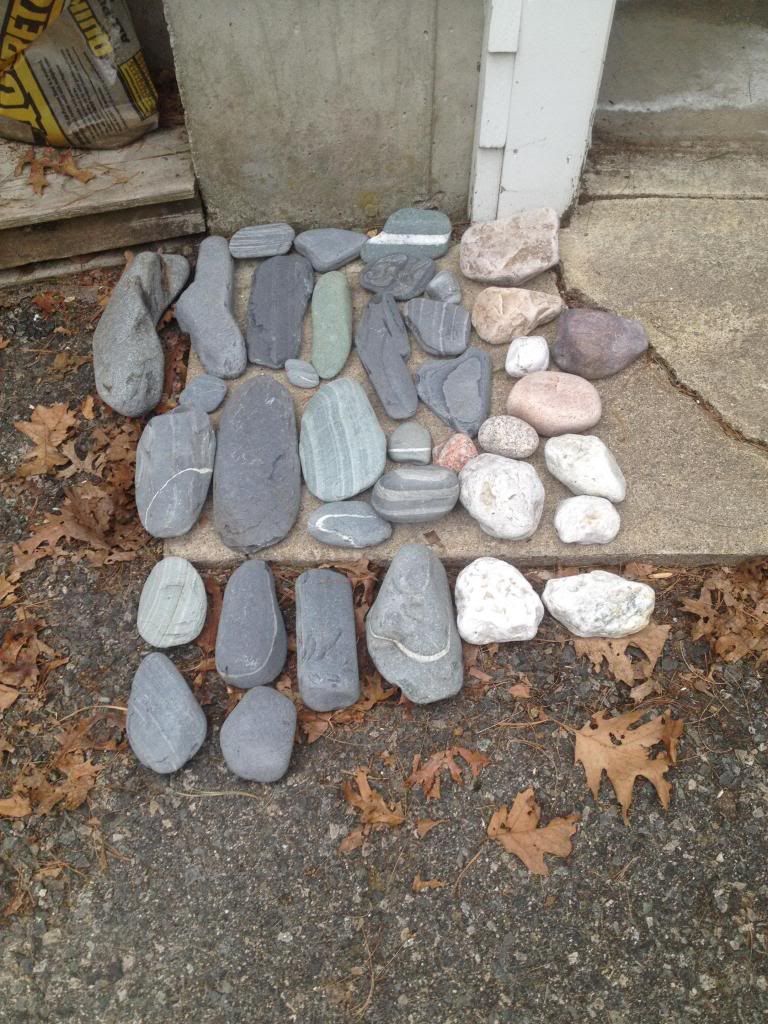 I've been cleaning the rocks by putting them in an old broiler pan, covering them with water, and putting them into a 375 degree oven. It usually takes about an hour for the water to come to a rolling boil. I then let the pan cool off overnight in the oven before draining the water. I haven't decided which rocks I'll use yet. I know they won't all fit in the tank.