I have a 40 gallon high (same height and width as a 55 gallon, but only 3 feet long,) low tech set up. It has a mixture of eco complete and fine gravel as a substrate, 10x hour turnover on the filtration, and two double 18 watt bulb T-5 fixtures (72 watts total.) The plants are vallesnaria, rotalla, hygrow, anubius, some small crypts, and ludwiga. (I know, I can rattle off latin names for fish like a machine gun, but can't even spell the common names for plants...) It is very well stocked, and gets a 50% waterchange once a week. My water is kind of a liquid rock, pH is 8.2 and the hardness is off the scale. I am looking for suggestions for fertilzing the tank. So for this tank: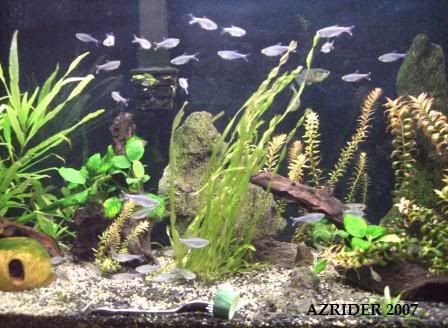 1) Should I even be fertilizing?
2) If so, what should I be adding, and how much?
3) Will the stem plants absorb enough of the nutrients to preven algae from going out of contol?