I tore down the tank.
I had planned for quite some time to redo it... reason 1 being that the tank was growing 7 different types of algae because I was inexperienced with the ferts I had acquired (staghorn, bga, brown diatoms, cladophora, hair, beard, and fuzz... yes, it was hilariously bad. Algae was growing on algae) and reason 2 being that I simply didn't like the arrangement because it didn't fit the tank. It looked like a bumpy floor at the bottom of this tall tank.
So, I looked around the internet for ways in which other people have achieved height with their scapes: I didn't know how to. (I went on aga aquascaping and couldn't help but notice laura's tank is the ONLY ONE that had dimensions that matched mine! But alas, I could not achieve a similar look; I lacked the plant matter to do so.) My main problem came from the fact that almost all tanks from which I tried to draw inspiration from had wider tank lengths than tall which meant they didn't have the problem of dealing with sloping substrate angles larger than 45 degrees. My tank's width is 12" and its height is 22". With my wishes in mind to have both some kind of foreground in which the bottom dwelling fishes could play around in front and an appreciable height following the 2/3rds rule so the tank wouldn't look so skimpy, I would have to achieve a slope of a whopping 60 degrees! - Something the internet didn't have a guide for with the rocks I already have.
So I let the algae farm continue for about another week, all the while feeling contempt towards the tank itself. (The low light plants and algae were both doing well, the high light ones were growing, but in a scraggly way. They didn't seem to be doing well.)
Out of boredom, I went around the net and that itching feeling kicked in to find a way to make my tank work so I decided to pull up one of Amano's recent videos and noticed the way the rocks were stacked without any glue or cement to create a sort of barrier for the plants in the upper level and the wall itself served as a canvas in which plants could be planted in between the rocks. I thought I could replicate the wall with the rocks I have and so I did, placing each rock one by one in a test work area in a random fashion but ensuring that each rock had a stable foothold on the rocks below it. Previously, I had believed that something like this would topple easily and come crashing down and break the tank glass but after putting this wall together, I was surprised at its sturdiness despite my pushing on it and attempts at jostling it. I put it together again in the tank and placed the driftwood I have on top.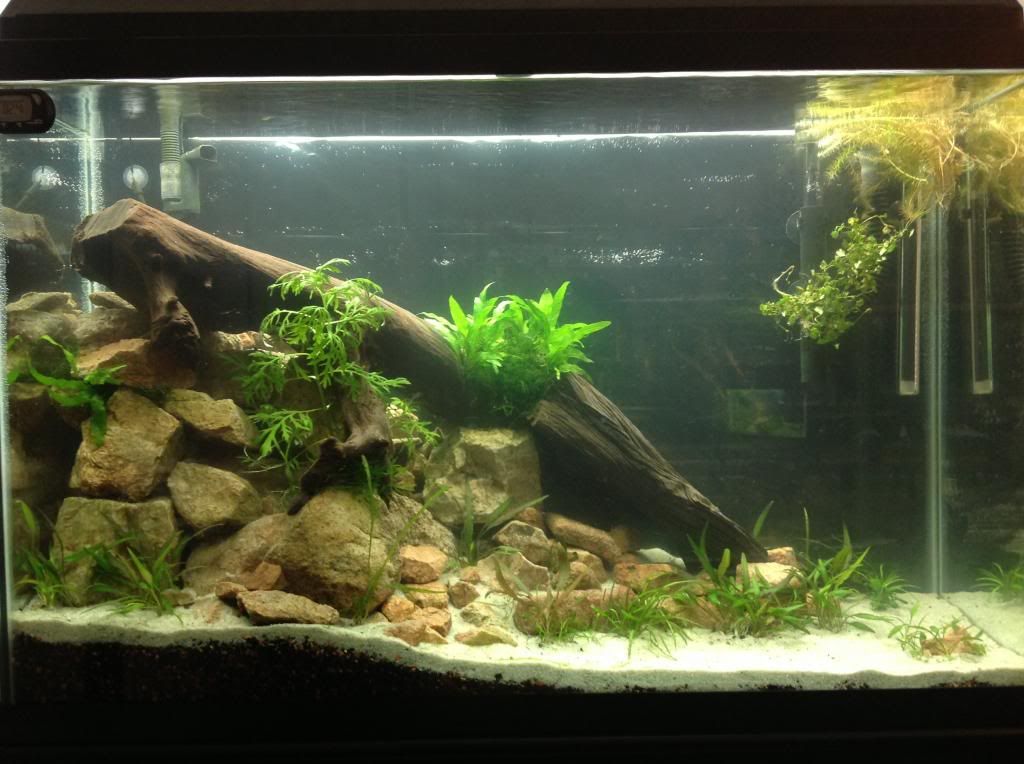 It's two pieces of driftwood. I hoped to mask the join by arranging rocks in that area so as to create a solid flow and cover it in java moss and fern.
As of now, it's obvious. I hope the plants will grow in and eventually make it seamless. As for the top left, I plan on creating a fern forest there so the ugly sawed-off end may be hidden but the amount of leftovers were not nearly enough to cover it so I may be acquiring some more soon.
The hydrocotyle and mayaca weren't doing well. I plan to do something else with them.