I live in an area surrounded by lovely hills of granite and other rocks. This particular type of rock I have selectively chosen is a light sandy color and was found amongst the granite and was also tested with muriatic acid and seems to be completely inert. The hills are a short bike ride away. and I carried with me a small backpack to and fro in which I loaded this specific type of lovely-colored and textured rock.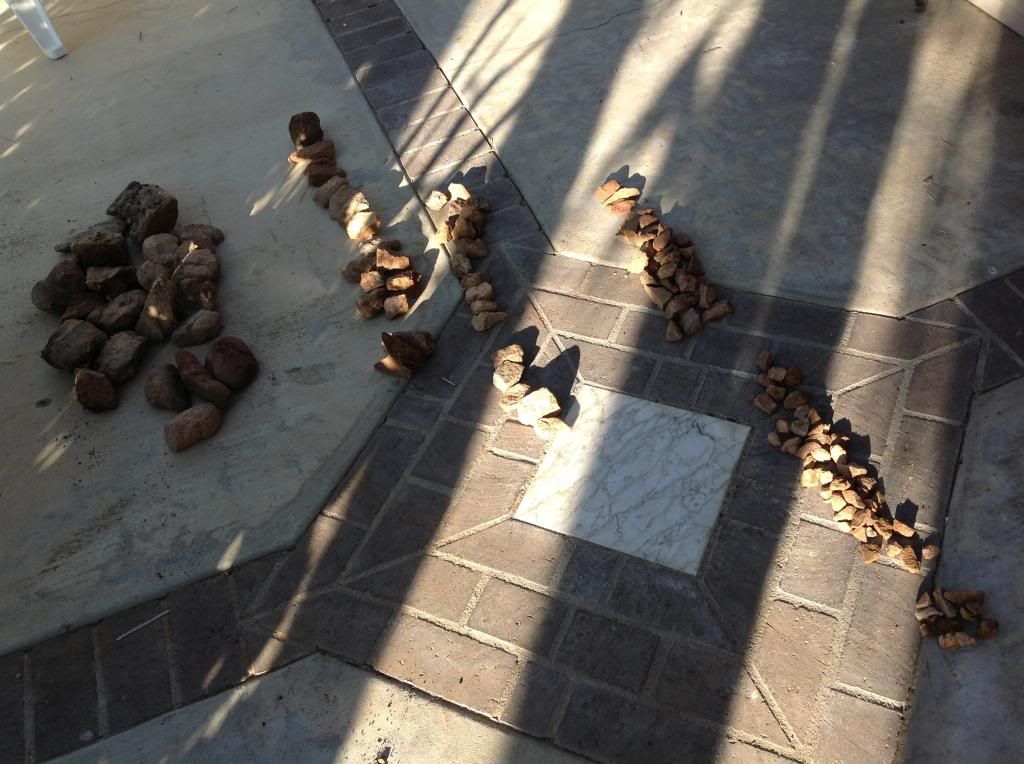 And so I did all sorts of things with these rocks! I tried building mountains with layering of rocks, I tried picking out the more pointed rocks and making little groupings with them atop ridiculously high and unsupported substrate hills... for this particular one, I created hills of layered foam and dumped the substrate atop... foam is buoyant... I watched my hills turn upside-down in the half-filled tank with horror. It was actually quite funny now that I recall it, and it seems even more funny to friends and family who I tell the story to. But nonetheless, in the heat and anger of the moment, I biked to my father's house to get far away from my disaster. After simmering on a couch for a couple hours (It was now 2 in the morning), I thought carefully about all that I had done so far - from all the unattractively arranged rock mountains to the substrate hills I threw together and what was wrong with them... and so I sketched this.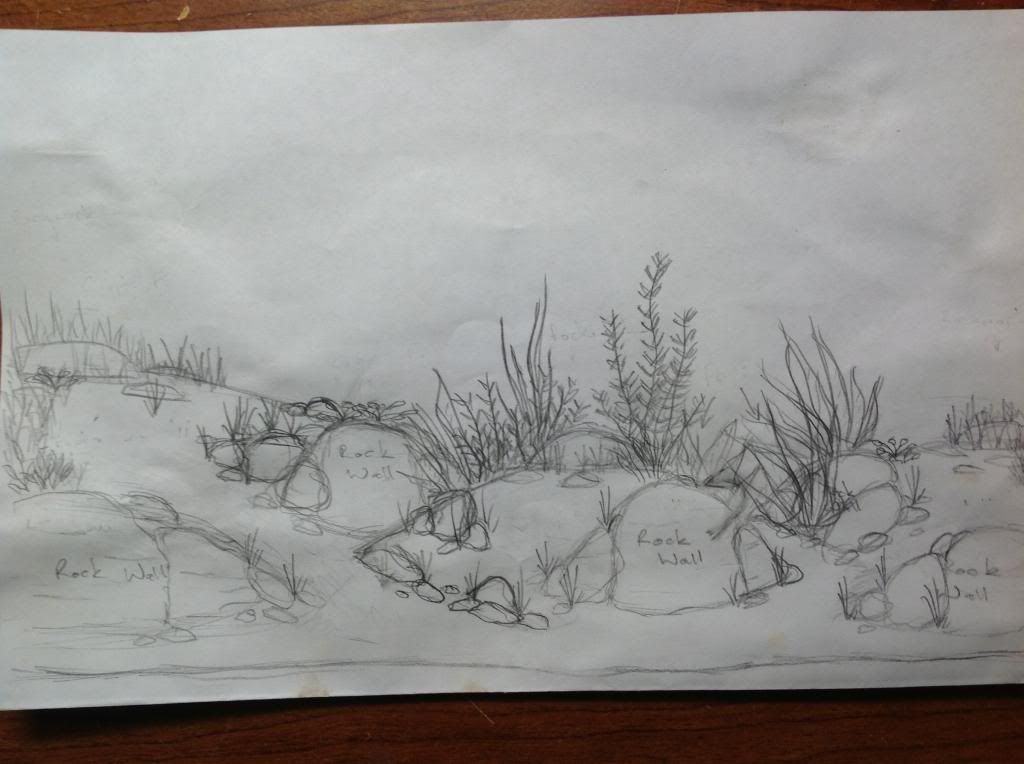 I liked it. The sketch inspired me. I fell asleep on the couch and awoke late the next morning and biked back, absolutely filled with ideas and a new-found passion. I took all the rocks and substrate from my tank and emptied it, cleaned up all the silly foam cutouts and bits and cardboard boxes and messy piles of substrate on the floor. I started all over - cleanly this time. With my piles of rocks in the outside patio, I started arranging them. Following my sketch, I created this.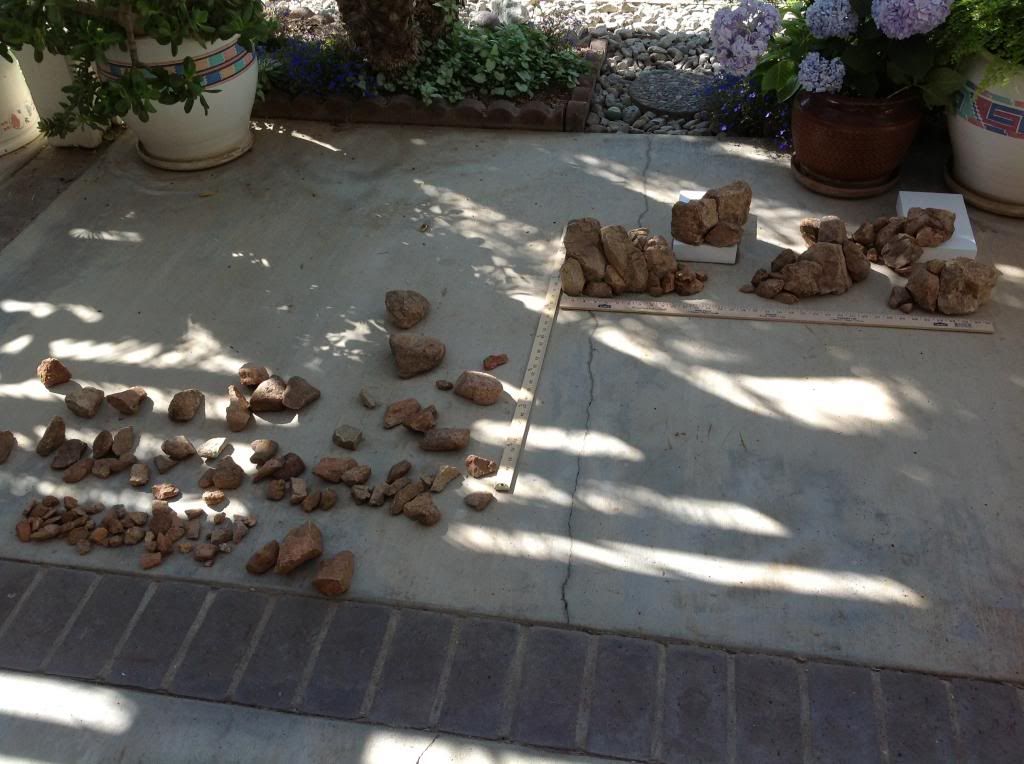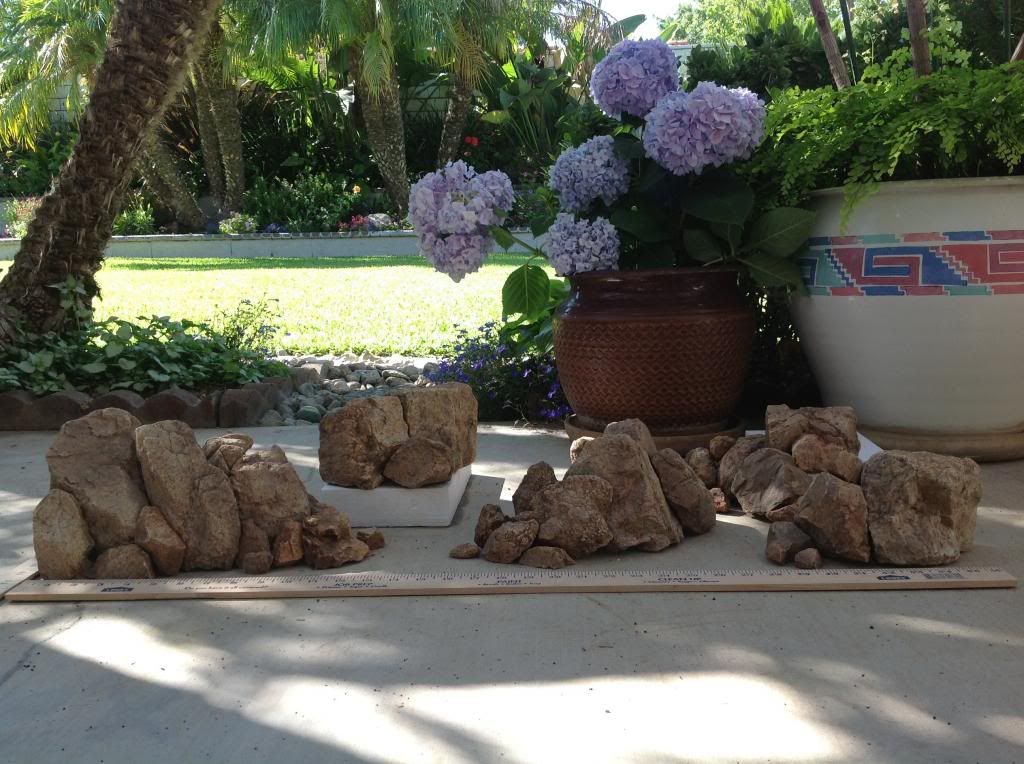 Boy, was I excited when I finished! It was the first pretty thing I had created! Shortly thereafter, I was soon at work transferring the arrangements of rocks as they were from my patio to my tank. Instead of foam, I used flat granite pieces to support the higher piles, although styrofoam was inserted to cover the tank floor to prevent cracking and scratching from the rocks as I was assembling them. Here's a few snapshots as I progressed through the construction of this scape.
In went the granite support pieces, two raised rock walls, and substrate. Then, finishing up with featured rock arrangements and a few small stones throughout the scape.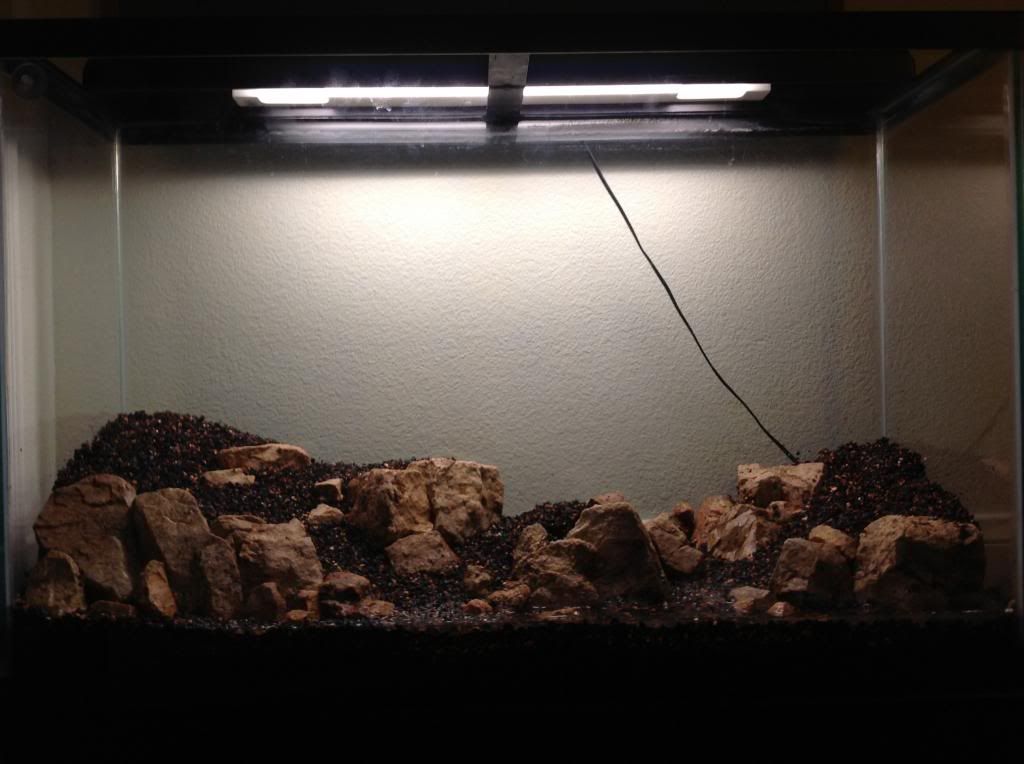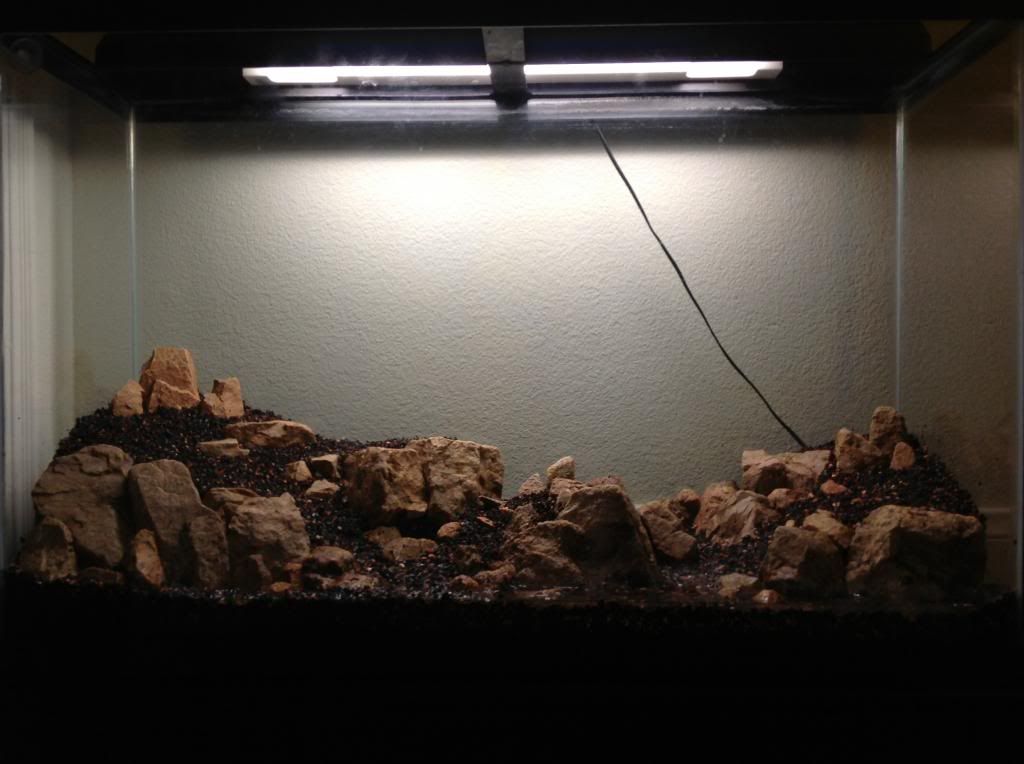 I filled the tank after I added the few plants I had - some crypts, a few blyxa aubertii, E. tenellus? java moss and ferns (not sure what to do with the moss yet, it's simply floating about), and a couple stems of water wysteria.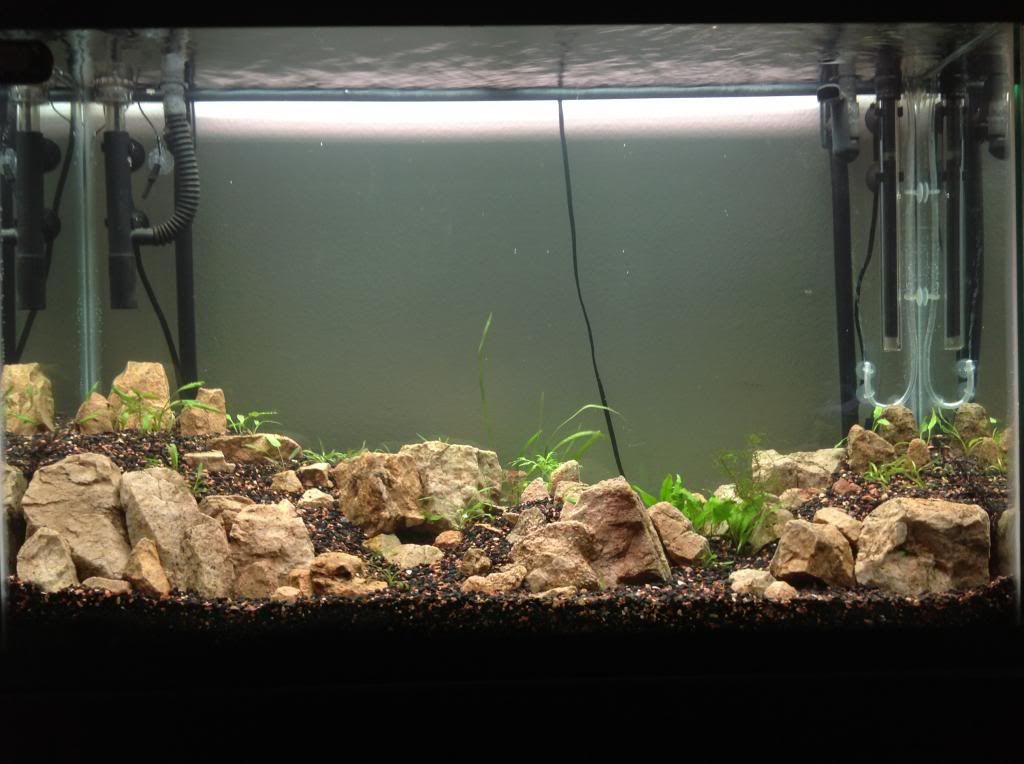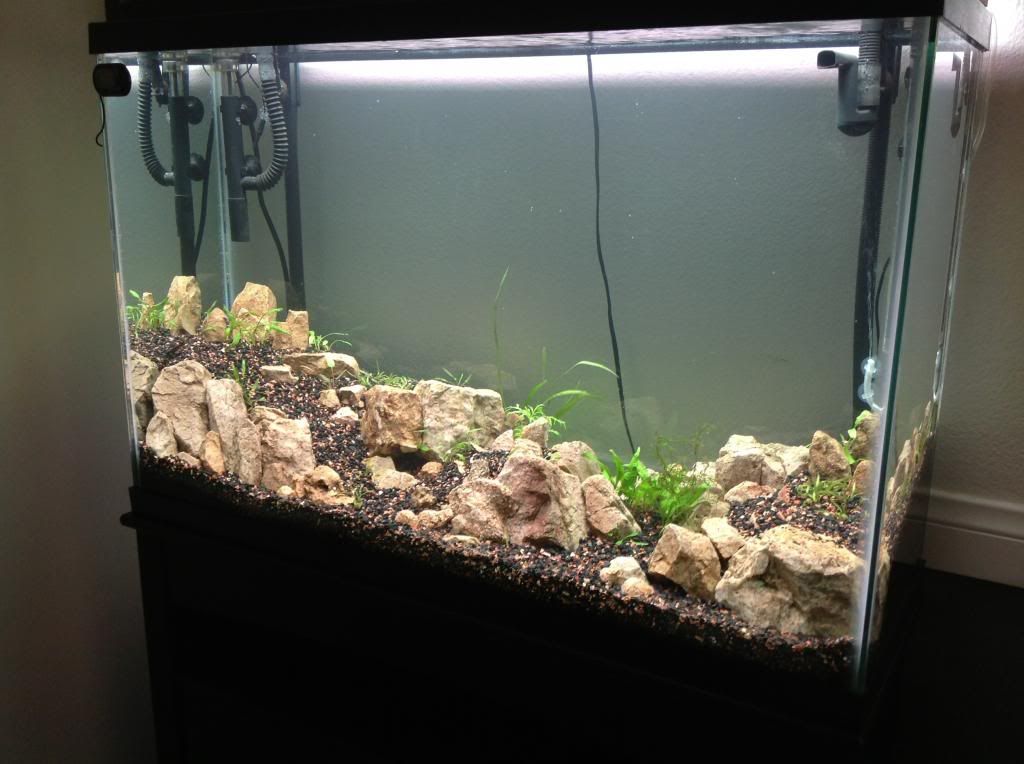 I plan on adding some dwarf hairgrasses... and I would love to have low growing plants only with this tank, but... the height of this tank must be utilized so I will probably add some bushy plants with some height to them.