Alright everyone. I have officially changed my 20g into a SW tank. I am back to only having SW again. I knew it wouldn't last. This will probably be a tank dedicated to my Clownfish. I am hoping to successfully breed them. Currently, I can't keep up with the clownfish. They lay the eggs and another tankmate eats them. So, I am hopefully fixing that problem.
Alright, So. . . The tank transformation is going well so far. After a speed bump. I bought a marineland C-220 Canister filter for it. I have to say, The worst filter I have even had. Very cheaply made, I felt like I was going to break it just putting it together. After I installed it on the tank I started to hit the prime button, Instantly water leaked out of the Primer button everytime I pushed it. Than, once I was able to get it started it worked ok. I shut it off to finish adding the sand. As I did that, I heard water hitting the tile floor. The Freakin' Canister was leaking right @ where the Motor meets the case. Not very happy about that. I usually like Marineland too. I am sad. But, I went & Traded it out for a Fluval 306. It works beautifully! I love it, It's so quiet and so easy to take apart. Plus, it feels really solid.
Sorry to have to "Bash" a filter. I just wanted to vent and share my experience in hopes no one else has to experience that.
Anyway, to move on from the filter problems. . . Here is a picture of the tank with my LED lights on @ 75% power.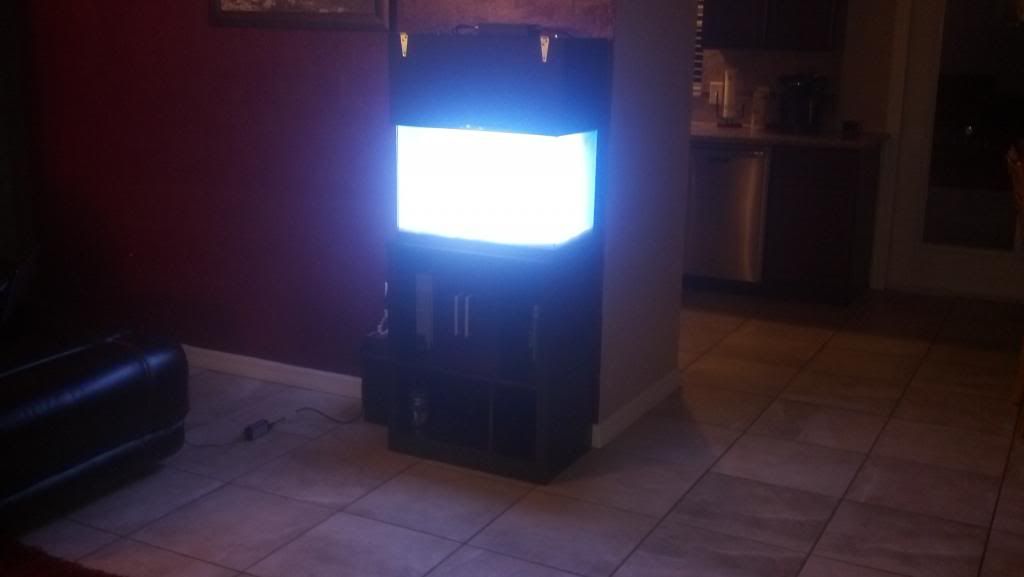 In the following photo, I dimmed the Fixture down as low as it would let me. 25% Power. Yet the camera can't see past the brightness. LOL
Feel Free To Comment! Thanks For Viewing!