Please

do not

leave comments/suggestions in this Journal
I welcome comments, questions, and suggestions posted on another thread you can access by clicking
here
.
Team,
Welcome to Northwest Arkansas, USA, where we've begun work on a room dedicated to fish keeping. After being diagnosed with pronounced MTS (multiple tank syndrome) and working at my LFS (local fish shoppe), I've decided to name the project my "LFR" (local fish room).
My wife and I moved into our first home on my birthday in August 2008. The house was built in 1977. No overhead light fixtures, ceiling "popcorn", and quality building materials were in style. One out of three isn't bad.
The foundation is "on blocks", meaning we have a crawlspace. Good for new plumbing, bad for supporting thousands of pounds of water weight. But, we'll get to that.
The room is a 3rd bedroom measuring 11' x 11' with a good sized closet that borders the laundry room, so I can patch into the water line fairly easy. A wall light switch controls a wall outlet, one of four. Another fix for the list.
We live at the top of a hill and have a 3/4" copper water line coming into the house. Our water pressure tested at 50 PSI. We're on city water, private septic. Water changes will be set up to drain independent of the septic system. City water in our area is sourced from Beaver Lake, treated with chlorine (no chloramine, thankfully), and has flouride added. You can learn a lot from a water supply report from your area.
I welcome comments, questions, and suggestions posted on another thread you can access by clicking
here
.
For more, less formal, behind-the-scenes updates, visit my fish blog:
Wet Socks
The best way to start any project is research. I had in my mind what I wanted with the room. I consulted the wisdom and experience of this forum, my local fish club, my local fish shoppe, fathers, uncles, et al. I measured, shopped around, and budgeted. I OBTAINED BUY IN FROM MY SPOUSE.
I want to create a fish room that is a showcase for the fish I keep. I plan to use techniques I've learned to balance form, function, and a bit of flash so that the room is a positive aspect to the house. I want to avoid the wife being embarrassed to let company see the room. I also need to keep in mind that someday, we'll most likely want to sell this home.
So, let's begin...
Carpet, though fairly new and clean, has to go. Removal took less than 15 minutes. The pad was cleaner than I expected, the trim popped off easily. I took the time to pull each staple from the floor that held the carpet pad in place.
Popcorn. Ceiling texture, whatever. It hadn't been painted over, so it came off easily with a painting edger. I wore safety glasses and a dust mask. This step was the messiest. Dust everywhere. Ex post facto, a co-worker recommended spritzing the texture as I went to reduce the dust. After shop vac'ing, I taped for painting.
My first choice of color was black. I was severely dissuaded by EVERYONE. Hint taken. I compromised with deep green walls and coordinating lighter green ceiling.
Specifically - Walls: Hazel Woods, Ceiling: Wethersfield Moss, Trim: Deep Finish Wood.
I bought Kitchen & Bath paint as one of several defenses against humidity.
I started with the ceiling, using a roller with broom handle extension:
The first coat on the ceiling marked the end of day one. Six hours labor in the project with a run to Home Depot.
Throughout the following week, we spent time in the room after our day jobs. The wife helped paint the walls while I did the second coat on the ceiling. The next day we did the second coat on the walls and touch ups. I highly recommend
the Shur Line Paint Edger. Add four hours into the room.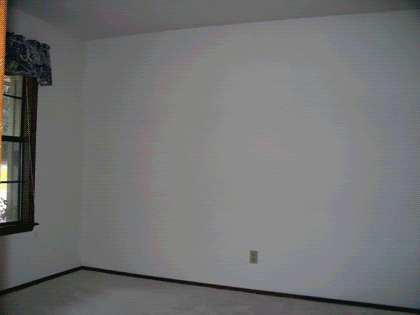 My cousin Nick was visiting from KY and I put him to work with the floor. We chose Allure vinyl tile because of what it says on the box:
"Super durable and completely waterproof. Perfect in high moisture areas… basements, kitchens, and bathroom.
Simply lay overlapping GripStrip™ of one plank on adjacent plank and press together. No other adhesive required.
Minimal trimming involved. Just score and snap!"
It performed exactly as described. Super easy. Add five hours to the project.
And that's where we're at for now. I'll post more as we go!