I love and have learned so much reading other ppl's Journals here that I'm going to start one, too. Since I am still completely in the planning stages of setting up my "new" used 90gal that is a MAJOR fixer-upper, this is going to be a start-at-scratch-to-finish project!
December 2007
- Clown loaches in the 46gal are getting big. Been drooling over larger tanks for a long long time- especially FW planted tank pics I keep finding online. I want at least 100gal tank.
January 2008
- Let my hubby get a 62" flatscreen TV for Xmas- great leverage for getting him to finally let me get my new big tank for my Bday this month! Finally got him to agree- as long as it goes in my home office and the whole thing is within a $500 startup budget (don't see how that's fair in comparison with his TV... but WHATEVER!
lol) With that budget and the size tank I want, means I'm going with a used tank. Started hunting newspapers, craigslist and ebay for used tanks for sale in my area. Being FL and so near the ocean, I guess, can't find ANY used setups that size that are FW. Finally found one on craigslist 40mil away. Custom 90gal with black hood, canopy and filter $250.
Jan 5 2008
- Went and looked at the 90gal- needs alot of cosmetic work and (surprise surprise) used to be SW and is drilled w/ an in-tank overflow. No sump, though. HOB filter doesn't look so hot, but I want to go with a canister anyways. Filled with water, no apparent leaks, and ppl say they had it up and running no probs till hubby got a new big flatscreen TV for Xmas and needed to make room so they took it down (too funny!) Negotiated the crap out of the people and got the whole setup WITH delivery for $200. Here's the tank: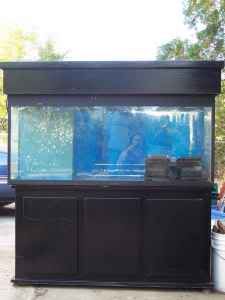 Got home and took inventory. Whole thing needs a good scrub- lots of FW and SW deposts everywhere. Stand and hood need refinishing. Hood has some water damage underneath where the HOB splashed up on it. Definitely will want a canopy for this tank- no more splashing and the thing is going in my office with lots of books- want to cut down on humidity. Didn't notice it before, but the stand is actually 1/2" too small for the tank! Hubby has a nice big piece of MDF I'll slap on the top, cut to size, route the edges, and paint with the rest of the stand... not that much more work than refinishing the whole thing, anyways.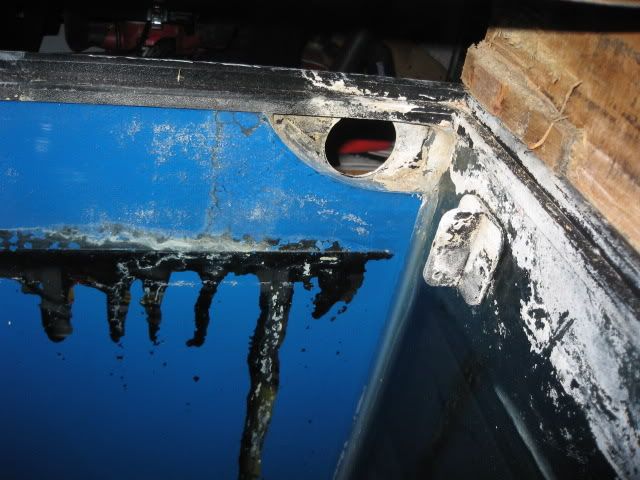 Decision- do I want to paint the whole thing white to match the trim in my office or black again to match the other tank in my office? Definitely black.
Removed the rusted-out shop florescent light fixture from canopy. Top of one of the screws totally disintegrated under my screwdriver- had to pull it out with pliers! Ick the thing was disgusting!!! Miracle no one electrocuted themselves with the state of the wiring and rusted ballast...
Got online and started researching the heck out of lighting fixtures. Pricing out filtration, substrate, plants, and driftwood/rock decor, too... gonna be really tight with only $300 left!!!