Many of us keep those beautiful and multi-colored Zoas and Palys in our aquariums, but these animals possess a toxin known as Palytoxin. This chemical can have adverse reactions to humans and varies in reaction from one person to another. Meaning it might not bother me much to be exposed but you may have a severe reaction, so caution is warranted when dealing with these animals.
Here is a link on Palytoxin....
http://www.cbwinfo.com/Biological/Toxins/Palytoxin.html
Here is some more info....
http://wildshores.blogspot.com/2008/10/ ... death.html
There are numerous reports of people who have been affected by these animals when handling them.(usually when fragging/propagating). The most common is being squirted in the eyes. For this reason, safety glasses should be worn while fragging. I myself have been squirted in the eyes, which left me in pain with red eyes that teared constantly for several hours.
Another method of entry is swallowing the toxin. I have also done this by touching the palys and then touching my mouth before washing my hands, maybe i was eating/drinking something, I don't remember. What I do remember is a distinct metallic taste in my mouth, upset stomach, and some numbness of my lips.
The last method of entry is an open wound. This is where I would like to introduce you to Jim Craig, a member of my local aquarium club. This is a story of what happened to Jim.(Keep in mind, Jim has kept corals for over 15 years and has never had this happen to him before.......
Hi Rich
I'll leave out a few details, but to say the least, I got seriously nailed
by some Palythoas n mid-July.

It happened when I was cleaning the Palythoas off of a shelf in frag tank.
They had started growing up on the hard and soft coral frags and were
stinging them. I was tired of picking them off each frag one by one. So, I
took the plexi-glass shelf out and scrapped it clean of the Palys. Somehow,
I ALSO got some little cuts in the top of my right hand during this project.
I knew something was up as soon as I was done because the cuts started to
itch like mosquito bites----weird. The cuts didn't really show any
irritation for about a day. By the start of the second day, I obviously had
a well entrenched infection. Coincidentally, Rich Dietz stopped by my house
the second night after I contracted the infection. Judging by the looks of
it, I knew the infection was more serious that the ones I sometimes get
while working in my tanks. And, my usual treatment of Neosporin was not
working.

My wife and boss (two different people) had been telling me to see
a doctor all day. I thought I would give it just a little longer. But,
when Rich became highly concerned, I decided to go to the ER about 10:30
P.M. I got really concerned when the ER staff took me in right away. There
were plenty of people waiting who were in more pain than me. (In fact, the
infections never really hurt.) I explained what had happened and showed
them the "Neurotoxin Warning" panel on page 182 in Borneman's book Aquarium
Corals. That was probably the smartest thing I did..Thanks Eric. The ER
staff was quite upset with the degree of infection, and in particular that
it was on my hand. They expressed concern about loosing functionality in
the hand---and "loosing the hand." By now, my right forearm was starting to
ach. They were pretty close to admitting me that night, but didn't. Not
sure why. Maybe because I had little pain and no fever-I just don't know.
The ER doc prescribed two antibiotics, levaquin and doxycline. I took them
about midnight. They were amazing.

The next morning the swelling in my
hand was nearly gone, and my arm had stopped hurting. Drugs = good. That day
my family doctor referred me to a plastic surgeon to monitor the healing. I
saw him the same day. He took cultures. However, he wasn't very confident
that anything would grow since I had already started taking the antibiotic.
On a follow up visit I learned that no typical strains of bacteria had grown
and the culture was negative for a Vibrio infection. He did request a
culture for Mycobacterium but that culture is not yet back.

Today, the sores are nearly healed and I can walk again (JK about the
walking). I never had problems with Palys before...

All in all, I think I was pretty lucky. I was dumb not get medical
treatment sooner. I am lucky because the drugs were INCREDIBLY effective.
Still, I wouldn't recommend this stunt. My hands and arms will be fully
protected for my next round of Paly cleaning.

Hope this makes an informative addition to your talks.

Looking forward to seeing you when our paths have a chance to cross again.

Sincerely,

Jim Craig
Here are the accompanying pics...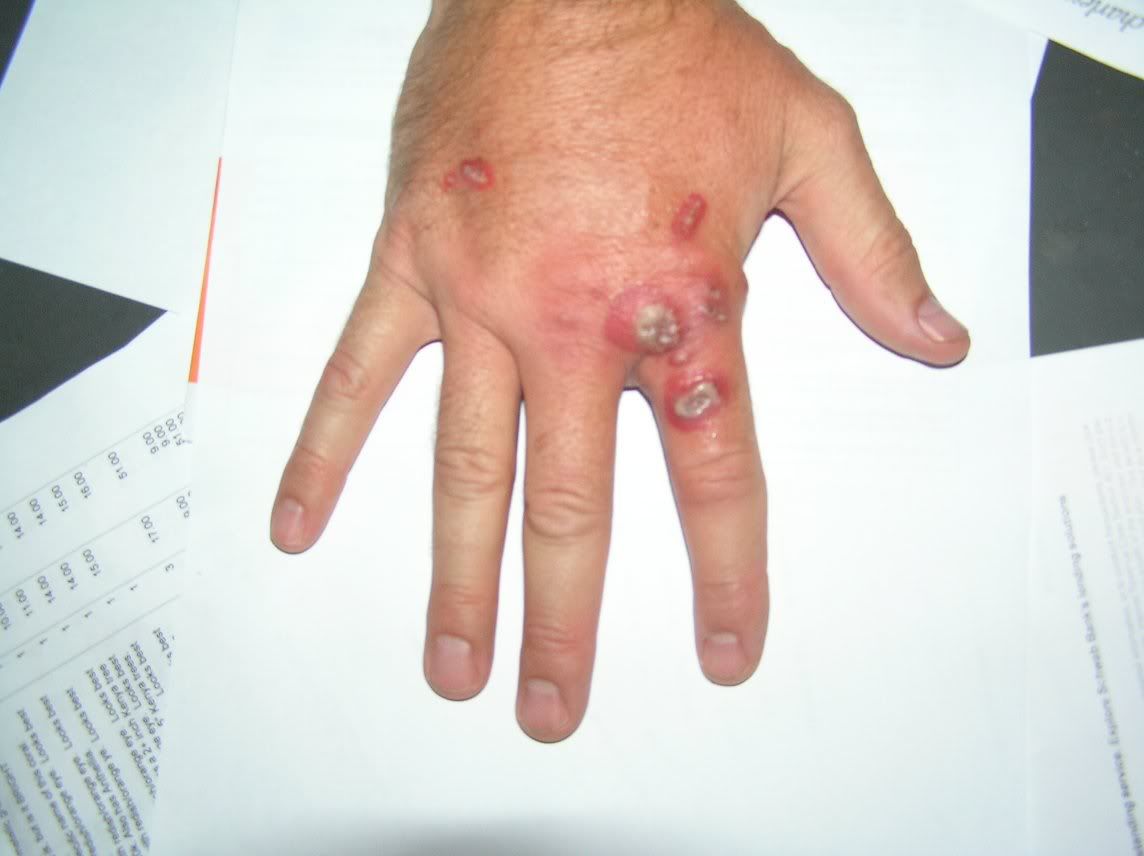 Notice that even with Neosporin(Anti-biotic ointment) that the flesh was being eaten away and becoming necrotic. For an infection to spread so quickly and to be going so deep that indicates the power of the toxins.
I hope this helps people understand more about the real danger of Palytoxins. Keep in mind also, that once you have had a reaction to this or any corals affects your body will be more susceptible to a more severe case each time.
Rich :)